Stamford Way Fisheries run local/resident matches throughout the week with weekend competitions and festivals etc throughout the season.
Join our facebook group for full details of all upcoming matches where you can also book/reserve your place. The latest match results and news is shared with the group first and of course you're welcome to join in on the general banter with fellow anglers. You can also view the most recent match results on our website.
Please note: campers will have access to at least 1 pool at all times (unless otherwise stated)
Latest News 25.09.22
Angling Wales have requested to do an article here at Stamford Way, preferably when we have a fully booked match or close to full.
I'm thinking 20 pegs using both pools £25 pools £10 peg fees £10 pools £5 super pool 4 sections paying 1st on each pool so the super pool will go to the winner on each pool.
I'm proposing Sunday 9th October 2022 - if you are interested in booking on this, please get in touch via our facebook group
DragonMania Coarse Championships
Stamford Way are one of four fisheries hosting 'DragonMania' 2022 the Welsh Coarse Angling Championships (Angling Cymru) with a whopping £1,000 1st prize with £125 - four section winners! Full dates venues below, for more details please visit: www.dragonmania.cymru
To book please visit: www.anglingcymru.clubmate.co.uk/memberarea/bookings and scroll down to Stamford Way Fisheries.
Results for Stamford Way Fisheries (Twin Oaks Pools) so far...
| 20.08.22 | Name | Peg | Weight |
| --- | --- | --- | --- |
| 1st | Ian Leach | 13 | 76lb 3 |
| 2nd | Matty Dawes | 1 | 60lb |
| 3rd | Ian Hayes | 5 | 47lb 5 |
| 4th | David Weale | 6 | 44lb 7 |
| 18.06.22 | Name | Peg | Weight |
| --- | --- | --- | --- |
| 1st | Richi O'Conner | 23 | 92lb |
| 2nd | James Woodfine | - | 74lb 5 |
| 3rd | Rob Palmer | 17 | 71lb |
| 07.05.22 | Name | Peg | Weight |
| --- | --- | --- | --- |
| 1st | Simon Knibbs | 21 | 82lb 5 |
| 2nd | Paul Harrison | 9 | 60lb 3 |
| 3rd | James Woodfine | 12 | 59lb 1 |
Good News! - We're pleased to announce that Stamford Way Fisheries will be hosting the finals of DragonMania 2023!!!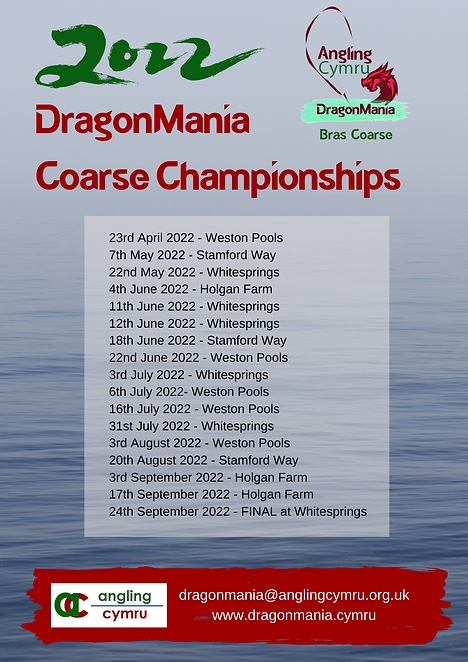 .
For any queries or advice on fishing our pools, please talk to us. We're always happy to help!
Twin Oaks Fishery Rules
General
Due to limited parking at reception, could all anglers please park at pool parking and proceed to reception on foot.
Day tickets and fisheries pellets must be purchased from reception before proceeding to fish. Please buy a day ticket or settle your club booking, before proceeding to fish.
No boots or over gear to be worn in reception or cafe.
All are welcome here at Twin Oaks, but children aged under 15 years old must be accompanied by an adult at all times.
Strictly no ball games/no playing around the pool.
All landing net heads and keepnets need to be dipped prior to using.
Fishing only from the numbered pegs. No cutting or diffing bankside vegetation.
Twin Oaks Pools is a family venue. Please use the toilets provided.
Respect other anglers. No loud music, BBQ's on the bank. Alcohol is permitted in moderation.
Be fish friendly! Barbless hooks (maximum size 16), and free running feeder rigs only. No elasticated feeders.
Due to this being a new fishery and heavily stocked with a mixture of sized fish (maximum 6lb) we ask that a maximum of 5lb main line is used until further notice.
All anglers must be in possession of a landing net.
All fish must be netted.
No tapping the pole on the surface of the water.
An unhooking mat must be used for photographing the fish. No fish to be out of the water for more than 2 minutes.
Please take your litter home with you.
Bait
No boilies.
No meat of any kind is allowed.
No floating baits (i.e. feeding or fishing with baits that are floating on the surface). Pop up baits suspended mid water are allowed.
Any Feed pellets and ground bait used must be purchased from our onsite tackle shop.
No paste.
No leftover bait to be thrown into the lakes or surrounding areas, it must be disposed of off site
Matches
No more than 8 pints of live/particle bait to be taken to your peg at any time. In addition to this, anglers are allowed a maximum of 1 kilo of worms, and 2kg of ground bait.
A strict 16m pole limit is in force.
Anglers may fish halfway between the peg that they are sat on, and the nearest angler.
When pole fishing, a float must be used. A minimum of 4 inches of line must hang between the elastic connector and its lowest fixed point in the water, the float must support the weight on the line below it. Jigga floats are allowed as long as the riles are adhered to.
No feeding via a second pole/rod while a baited hook is in the water.
Please remember to bring and use your own keep nets in matches (will require dipping).
Queries/Penalties
Our sole aim is to create a pleasant, fair environment for anglers to enjoy our facilities.
Please report any violation of the above rules to the fishery team as soon as possible. We reserve the right to disqualify, evict, or ban any individual that we regard to be showing a blatant disregard for our rules.
In a match fishing context, please note that reports of any competitor breaking the rules must be made immediately, while the competition is ongoing.
With regard to our keepnet rules, any angler who weights more than 60lb 1oz in a single net will be docked back to 60lb. If the total weight in the net exceeds 70lbs, the whole weight in that net will be lost.
The management reserves the right to close the venue in adverse weather conditions.
Polite notice - Please be courteous towards fellow anglers - treat your neighbour with respect regardless of your peg. Enjoy your fishing and remember Twin Oaks Pools and Stamford Way Fisheries is all inclusive, welcoming anglers of all ages and abilities.