Important Customer Notice: The Fishery, Campsite and Café will be fully closed on Wednesday 5th October 2022 due to an important family commitment. We will fully reopen again on Thursday 6th as usual. Thank you for your understanding. 💙
Welcome to Castle Cafe, Ewloe's local licenced cafe and coffee shop!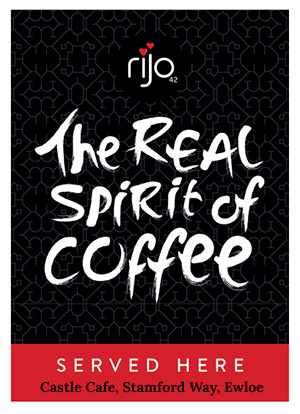 Our licenced cafe is open to the public, serving a wide range of hot and cold drinks including fresh barista coffee, a good selection of teas, hot chocolate plus home cooked food - everything from our signature cooked breakfast to salads, burgers, paninis, jacket potatoes and a delicious offering of fresh cakes, bakes and sweet treats. All produce where possible is sourced locally, including fresh meats and cakes.
What makes us unique is our licence to serve alcohol and you'll find the display fridge well stocked with beers, cider, wine, mixers and other refreshing drinks.
The cafe/coffee shop is light, open and spacious with plenty of tables or you can choose to relax in the lounge area which offers 2 large comfy sofas, coffee table, magazines and a tv. Should the weather permit, doors at the back open up to a beautiful decked area with tables and parasols that overlook the campsite and fishing area with several picnic tables to the side.
We're Dog Friendly! - Dogs are welcome to join you in our outside seating area with bowls of fresh drinking water available. There's plenty of space for walkies and we have a dog waste bin onsite.
Plans are to make the cafe available for functions and events in the near future, if you would like to consider booking, please get in touch to register your interest. Please telephone the cafe during open times or contact us online.
Autumn/Winter opening times (from September 2022):
| | |
| --- | --- |
| Monday | Closed |
| Tuesday | 10am - 3pm |
| Wednesday | 10am - 3pm |
| Thursday | 10am - 3pm |
| Friday | 10am - 3pm |
| Saturday | 9am - 3pm |
| Sunday | 9.30am - 3.30pm |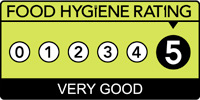 Castle Cafe has a 5 star food hygiene rating issued by the Food Standards Agency.
You can find us on facebook: www.fb.com/castle.cafe.bistro.ewloe
Breakfast Menu (served till 1pm on weekends if busy)
£
Mega Breakfast
(2 sausage, 2 bacon, mushrooms, 2 black pudding, 2 hash browns, beans, 2 toast, 2 fried or poached egg)
9.95
Signature Breakfast
(1 sausage, 1 bacon, mushrooms, 1 black pudding, 1 hash browns, beans, 1 toast, 1 fried or poached egg)
7.50
Breakfast Extra Items
1.00
Bacon, Sausage & Egg Bap
6.95
Bacon & Sausage Bap
5.95
Bacon & Egg Bap
4.95
Bacon Bap
4.95
Beans on Toast
2.95
Egg on Toast
2.95
Jam on Toast
2.50
Toast
1.00
Lunch (available all day)
£
Angus 1/2lb Burger with Chunky Chips/Fries*
11.95
Fish, Chips & Peas
10.95
Large Beer Batter Fish, Chips & Peas
12.50
Angus 1/2lb Burger*
7.50
Classic Burger with Chunky Chips/Fries*
7.95
Classic Burger*
5.95
Cottage Pie
5.95
Chunky Chips/Fries
4.50
Bread & Butter
1.50
Freshly Made Soup of the Day
(with a Bread Roll)
4.50
Panini*
£
Bacon & Cheese
7.50
Cheese & Tomato
7.50
Ham & Cheese
7.50
Tuna & Cheese or Mayo
7.50
Jacket Potato with 2 fillings*
£
Choose from Beans, Cheese, Coleslaw, Tuna
7.50
Sandwiches*
£
Cheese & Onion
4.50
Cheese Salad
4.50
Cheese & Tomato
4.50
Ham Salad
4.50
Tuna & Mayo
4.50
Vegetarian
£
Bangkok Bad Boy Burger
7.50
Bangkok Bad Boy Burger with Chunky Chips/Fries
9.50
Kids
£
Cheesy Chips
5.95
Nuggets & Chips
5.95
Sausage & Chips
5.95
Burger & Chips
5.95
All kids meals come with fresh orange or apple juice
Fresh Cakes & Bakes
£
Various flavours such as Chocolate Orange, Victoria Sponge, Millionaires Shortbread. Changes daily.
3.75
Confectionary
£
Mars
1.00
Twix
1.00
Crisps
1.00
Desserts
£
Choice of freshly home made
4.50
Ice Cream - Chocolate, Strawberry, Vanilla
3.50
Hot/Cold Drinks
£
Tea (decaff available)
1.50
Pot of Tea (small)
2.50
Pot of Tea (large)
3.95
Latte Macchiato
3.00
Cappuccino
3.00
Cafe Latte (decaff available)
3.00
Mochaccino
3.00
Americano
3.00
Espresso
3.00
Hot Chocolate
3.00
Juice
1.20
Cans
1.20
Bottle of Water
1.20
Tea (take away)
1.75
Coffee (take away)
3.20
Alcohol
£
Bulmers Cider
3.50
Prosecco (20cl)
5.00
Pinot Grigio
3.50
Becks
3.50
Budweiser
3.50
Moretti
3.50
Peroni
3.50
San Miguel
3.50
*comes with balsamic vinegar side dressing